Description
This Exceptionally Fine and Rare Ottoman Mirror with Cover is designed of a Typical Ottoman Round Shaped Form, Fitted with Gilt-Copper (Tombac) Mounts & Purple Velvet Fabric, Seed Pearls, Soutache Braid, Gilt & Spiral Wires with Couching Technique of Metal Thread over Cardboard, Decorated with Christian & Hunting Logos, Circa 19th. Century.
This beautiful masterpiece is a unique presentation of an Ottoman style mirror, which was most likely made by an Armenian Master, due to the use and the presence of Christian iconography and to the beautifully embroidered Initials which are most likely of Armenian origin, which are probably referring to the Armenian letters
Լ Ե
Translating to
Լ E
The high quality of this masterpiece and the subjects are an indication that the mirror was most likely commissioned for a promenant Armenian or European Individual.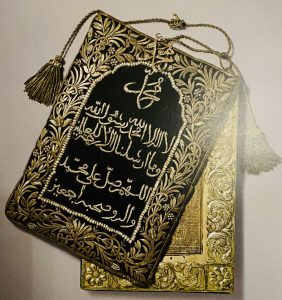 For  related fine Ottoman embroidered works of Art and similar materials used, please see the above:
An exceptionally fine 19th. Century Ottoman Hilye-I Sherif and the Murassa (encrusted) cover, (for the item's information please see the references).