Description
This exceptionally rare large Bezoars stone container is been made in a an egg shaped form, the thick silver skin of the egg is been decorated by using both types of square geometric ribbed shaped thick wires and another smaller serrated type of filigree silver wires, both types of wires were weaved with intense interlaced curved vegetation and parcel-gilt palmette designs, the container is perforated in mesh like design in which can only hold a solid item such as a the Goastone or gems, such as corals and pearls and no other liquid based substance can be placed inside.
The silver container is made in two sections and it closes and opens in the middle, therefore and in order to be able to easily close and open the container, the upper round top of each section is been fitted and lined from the inside with silver screw thread.
Both parts of the container are fully marked to both the interior screw thread parts and on the middle filigree exterior parts with two French silver Swan marks allocated for imported foreign silver and is also marked with another anonymous vine like leaf shaped mark.  
The large three-footed base is designed in the form of a large rounded candleholder, the stand is been similarly decorated with intricate silver wire work and additionally with engraved and molded silver such as the engraved round ring that holds together both the round disk base with the round raised edges decorated in the form of palmettes derived from architectural palmettes used on top of fortresses and the three bird shaped feet that carries the overall base.
The crown shaped capital that carries the bezoar stone container is similarly decorated with palmette or flower shaped designs also found on the egg shaped bezoar stone container.
For Identical Parcel-Gilt Filigree Bezoar Stone Holder Please See The 17Th. C. Holder in the Collection of Pedro Aguiar Branco, Oporto or Porto in Portugal.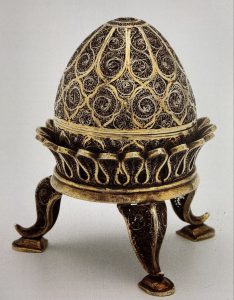 A Similar influenced Shape, please see the following Magnificent Indian Enameled Gold Model depicting a Scent Container which was made later in date.